19.-20.10.2019 ALACER SUCCEEDED IN ANOTHER ALLROUND TEST WITH A FANTASTIC SCORE: 1st PRIZE, 489 POINTS, OVERALL 2nd PLACE AND BEST BLOOD TRACK (OFF-LEASH BARKING)!!!
...and qualified for Richard Knoll Memorial Nomination Contest (!!!), planned for 8. - 10. 5. 2020 in OMS Jičín. The Nomination Contest is attended by top 36 dogs from the Czech Republic ranked by their scores at allround tests the year before. Then, the top 20 dogs passing the Nomination Contest will compete in the most prestigious Czech national championship of pointers, Richarda Knoll Memorial (MRK), for the "Allround Czech Winner" title.
28.-29.9.2019 ALACER SCORED SECOND PLACE AT ALLROUND TEST, WITH "BEST WATER" AWARD
This allround test has been organized by OMS Litoměřice. Alacer again flawlessly demonstrated off-leash blood track barking after finding the deer - as the only dog! He also worked relentlessly in water and reed, earning a "Best Water" award.
15.9.2019 WE ARE VERY PROUD TO ANNOUNCE PLANNED LITTER OF MOOSE AND ALACER
The arrival of puppies with both beauty and brains is expected in Q1 2020. For more up-to-date information please follow this link
31.8.2019 HATTRICK: ALACER WINNING WEIMARANER CLUB SHOW FOR THE THIRD YEAR IN A ROW!
KCHVO KONOPIŠTĚ: EXC. 1(WINNER CLASS), CAC, CLUB WINNER, BOB
10.8. and 17.8.2019 PRACTICE MAKES PERFECT: 2 x FOREST TEST IN 1st PRIZE AGAIN
As part of our training, Alacer demonstrated superb performance in forest disciplines in Orasín, organized by OMS Chomutov and a weekend after in Štěpánov, OMS Teplice. This time he demonstrated off-leash blood track barking after finding the deer.
7.5.2019 ALACER CLEAR OF DCM
Alacer Royal Splendour has undergone cardio tests obligatory for all dogs of Weimaraner Breeder's Club Members (KCHVO) at MVDr. M. Fiedler's clinic with the result of NO SIGNS OF DCM (dilated cardiomyopathy)
13.4.2019 ALACER ONE STEP CLOSER TO THE TITLE OF "GERMAN CHAMPION"
International Dog Show Chemnitz 2019: Exc1, CAC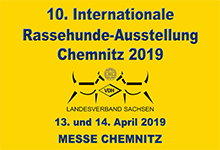 January 2019 ALACER ROYAL SPLENDOUR: 2nd most successful dog in shows of 2018 in the Czech Weimaraner Club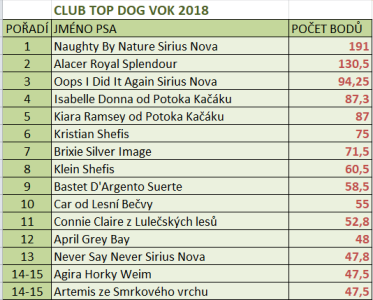 2.12.2018 ALACER GOT BIG 3, BOB, CACIB, CAC, V1
What a success at the International show Prague Expo Dog CACIB!
15.11.2018 ALACER BECOMES A FIRST TIME FATHER – WE ARE CELEBRATING AN ARRIVAL OF 4 BOYS AND 1 GIRL!
High expectations of beauty and performance for "F" litter of Silver Sfinx.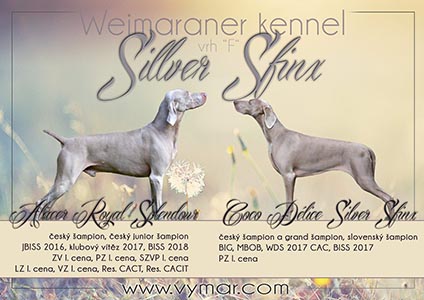 21.10.2018 WEIMARANER CACIT FIELD - WATER COMPETITION, BABATPUSZTA 2018, HUNGARY
Alacer passing the tests in 1st merit, 2nd place, earning a Res. CACIT and Res. CACT titles for himself and a Best Woman Leader for his owner

12.-13.10.2018 ALLROUND HUNTING TESTS TEPLICE
Alacer Royal Splendour - 2nd merit, nose 4, pointing 4, the best blood track
22.-23.9.2018 ALLROUND HUNTING TESTS - TEPLICE
Cit ze Slatinské Bažantnice - 481 pt., 1st merit - the best blood track (nose 4, pointing 4)
13.9.2018 ALACER'S FIRST BRIDE
Today Alacer mated Coco Délice Silver Sfinx.